February can be tough for me. Isn't it for most people? It is the depths of winter with it's icey claws gripping us and keeping us from getting that Vitamin D that restores our souls. I look out the window and occasional snow storms share their white beauty but in between there is nothing uglier than dirty snow with its dead branches and muddy surface reminding us of February's awful seeming endlessness.
For me, however, February has extra depths to plumb. It's my dear Dad's birthday, a brilliant, handsome engineer and father to a tribe of eight children. He was everything a devoted, loving, respectful husband could be to his wife and set a high bar for every man his daughters would ever meet. He was so kind to me and so encouraging. I miss him so and his February birthday points that out sometimes with pain as deep as the icy snow drifts outside.
Then there is my Valentine's Day, such a lovely fun holiday. I always called it my double dip holiday because my birthday was the day after. I lucked out on that one, at least until the past few years. My mom, who I miss so deeply, passed away on my birthday. February strikes again! I do think part of my February dread is the anticipation. Once I am through each of these dates, I feel "safe" again. It's hard for me to celebrate my birthday on that day but we are good at workarounds here.
We do have some great February news here! I had my own big milestone in February. I had a milestone birthday, the big one. I can hardly get the words out of my mouth so I just call it my Milestone Birthday. I am seventy years old, friends, seventy!!! I sure don't feel it. My daughters, in their wisdom, planned a wonderful evening to celebrate on none of those aforementioned dates. I couldn't have asked for a more special and lovely celebration. We had our own private room at what is rated New Hampshire's best restaurant, very high end, and their reputation is well deserved. The Hanover Street Chop House delivered in every way with service and a memorable meal that would be hard to equal anywhere. I couldn't have asked for a more perfect evening. I was surrounded by my family and close friends and it was all so lovely. There were gifts and some wise gift givers even gave me fabric money!!! How great and wise was that?
Now that I have reached this age, I think it is great. I have awesome health. What's a few headaches? But I am blessed with none of the usual affiliated issues of aging and am so thankful for that. My great grandmother lived to 102 in the pre antibiotic world and my grandmother until 97. Fingers crossed here for a healthy and mindful dotage! February also just saw me spend 11 of its days with Influenza B but I am over it with no repercussions, yay! You do not want this and I pray none of you get it, not fun! But I have rebounded and the future is looking good and I can't wait for warmer weather and my garden.
I have already had one shopping trip for fabric this week. I have been craving some Essex linen to make a light topper to bring on our vacation this summer. Having had my fill of winter, it is time to sew for summer and we will be going on vakay to the Azores, so sew I must. I did my shopping at that wonderful local quilt shop that has some really lovely garment fabrics,
Quilted Threads
, and I honed in on the Essex linens but there were some exquisite Japanese garment weight fabrics there as well, to die for! They gave a bit of a heavy winter vibe so I stayed away, but they were gorgeous.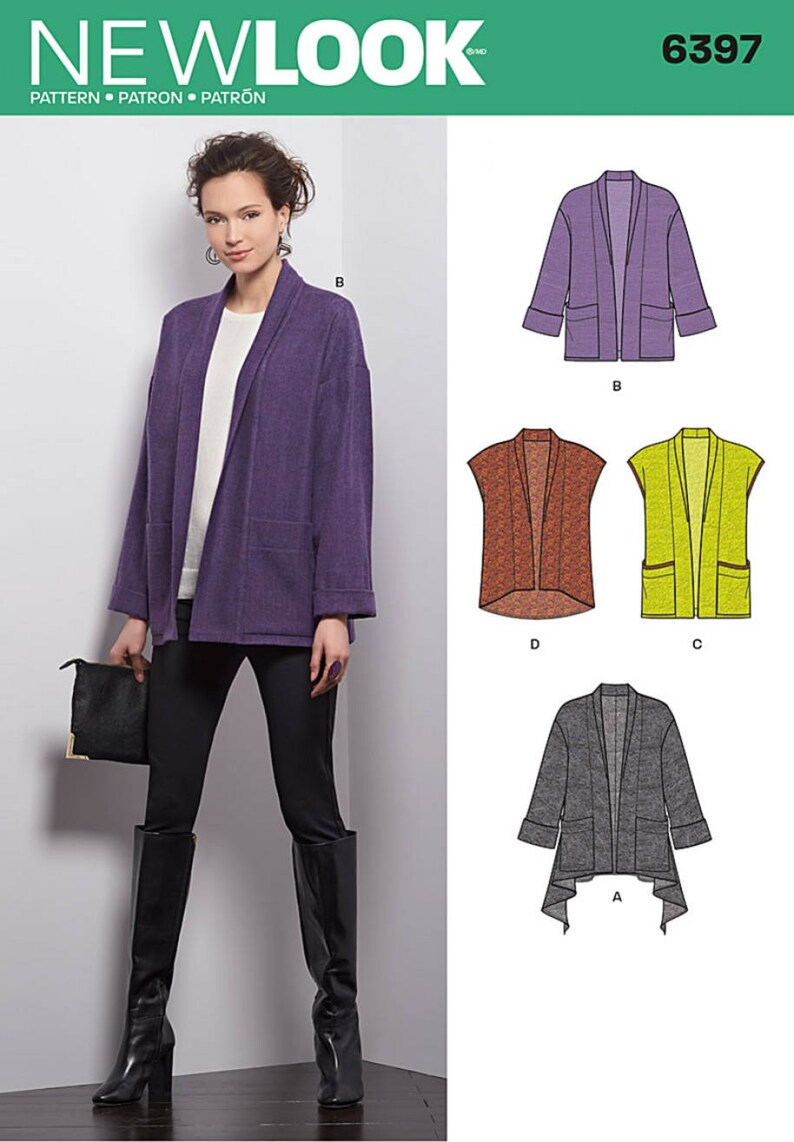 I will be making View B of this pattern with a few changes, as usual. The sleeves will be shorter and have a contrast band. I cut four inches of the length of the bodice. The pockets will have some piping and the shawl band will have assorted blocks of color, all in Essex linen, my favorite summer fabric. I do love that View C vest and have some plans for that. I also have some lovely rayon challis that would make a great skirt to go with this, or a cami, we'll see.
The predominant color of the jacket is the green, not a great color on me, but I am hoping the accent colors will help. Besides, it's summer and just a throw on topper so I am going with what I like and this combo worked really well in the store. Hubs say I will get lost in the rain forest and they will never find me.
This quilt shop is a big one and has a selection of "quilting" notions you can't believe. Garment sewists really need to check these things out because I don't see them being marketed to us. I picked up this little gem and can see using it for underlining and also in applique and art pieces.
It has this tiny injection type needle to apply the fusible substance to where ever you want it and then you just press. I can see a lot of uses for this and precision is definitely the right description.
My other purchase, total impulse buy, was this wild and crazy variegated thread from Mettler. We'll see what creativity this spurs. I need to stare at it for a while! Quilt shops have incredible thread selections.
I did finish my blanket skirt and I love wearing it. It is a real staple and I hope to get some pics up soon. I'm just a little worn from this flu but will be coming up with a review. My little skirt is quite warm and works great with the fleece tights and puffer coat.
Pic below is just after I blew out my seven candles. I am so happy to be alive, healthy, blessed with a passion, sewing, and a family that is incredible. I have lifelong friends who helped me celebrate and they are treasures. I treasure you as well, my dear readers and thanks for following me all these years. Let's hope for many more together. I have a lot left in me to sew and miles of yardage before I sleep, to paraphrase Robert Frost, miles to sew before I sleep......................Bunny